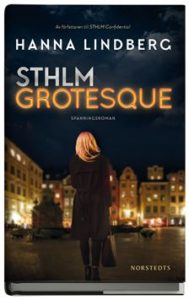 Stockholm Grotesque is the second novel in the internationally acclaimed series about Solveig Berg and Lennie Lee. It is a story about people running away from their past. And what happens when the past catches up on them.
The Golden Chef is the event for anyone with a position in the prestigious gastronomic world. Journalist Solveig Berg is at the gourmet palace Stockholm Grotesque for this year's gala. Everyone predicts the winner of the award to be either Florian Leblanc or Jon Ragnarsson – the star chefs that used to be partners. As the winner is announced, the light goes out and a gunshot is fired towards the stage.
When the police investigation seems to focus on the wrong track, Solveig is forced on a dangerous search for the truth. She is confronted with dark forces behind the closed doors of luxury restaurants, but also with her own past. The deeper she digs, the more dangerous it becomes.
Scandal photographer Lennie Lee is back in Stockholm after three years. He has just been released from prison and has hit rock bottom. But through his well thought idea to invest his last savings on a Foodtruck, Lennie is convinced he will be back at the top.
Stockholm Grotesque is a stand-alone sequel of Stockholm Confidential, Hanna Lindberg's internationally acclaimed debut. Now the arena is the sparkling gastronomic world where the pursuit of status overshadows everything else. People may even be prepared to kill to achieve their dreams.
It's a modern thriller set in contemporary Stockholm about escaping the past to become someone else.
450 pages
Release: October, 2017