Im delighted to announce my participation at Helsinki Bookfair 2018. I will introduce my second thriller STHLM Grotesque (kokeile nyt!) – released as audiobook on Storytel Finland Oct 15.
My Schedule:
28 October
17.00-17.30 Punavuori
I will introduce my Thriller series about the Journalist Solveig Berg.
Stage talk with my publisher Victoria Vatanskaja.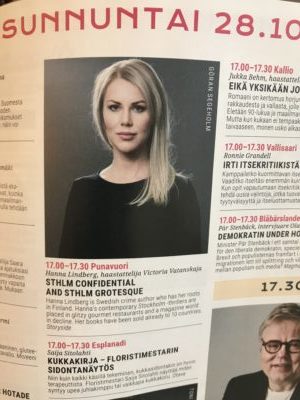 Guests from Sweden at the bookfair:
Arne Dahl
Thomas Erikson
Eva Gabrielsson
Jonas Helgesson
Hanna Lindberg
Herman Lindqvist
Nino Mick
Agneta Pleijel
Elisabeth Rynell
Ingmar Simonsson
Jan Stocklassa
Ebba Witt-Brattström
More information and tickets here:
In Finnish: https://kirjamessut.messukeskus.com/
In Swedish: https://kirjamessut.messukeskus.com/?lang=sv