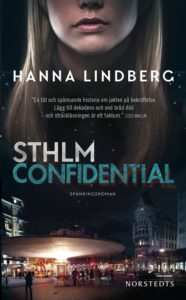 Solveig Berg is a young journalist who lost her job in the search of a scoop and ended up in the cold. The emptiness and loneliness bring back dark memories and she will do anything to get back to her former life.
Photographer Martin "Lennie Lee" Lenholm runs a successful men's magazine, owns a luxury apartment at the right address and is constantly surrounded by beautiful women. But as the magazine's circulation drops, his friends turn their backs. Everything points inexorably downwards when Lennie is asked to throw the party of the century for an extravagant businessman with a criminal past. The money he'll make on the party will be enough to solve all his problems – if he pulls it off. And if he survives.
When the famous model Jennifer Leone is found dead, Lennie's and Solveig's paths cross and a chain of nasty events unfold.
Stockholm Confidential is a page-turning thriller about the quest for celebrity and love in contemporary Stockholm. Who can you really count on in a game without rules?
Praise and reviews for Stockholm Confidential
"Hanna Lindberg appears to be the new star of Scandinavian crime fiction" Ranieri Polese, Corriere della Sera (Italy)
"Perfect to become a TV series" La Stampa (Italy)
"Nothing but extraordinary, 5/5" Reading at Tiffany's (Italy)
"Stockholm Confidential has all the ingredients of the Nordic thriller" Marilena's Journal (Italy)
"Stockholm Confidential is one of those books that make it quite clear how the Scandinavian authors are considered modern masters of modern technology: striking, sliding, unpredictable, coincidental, and with a slight humorous touch." Andrea Margutti, Leggere a Colori (Italy)
"I've got to stop myself and even hide the book to not read it too fast … The novel feels well-worked and I laugh, cry and get upset every other second. 5 out of 5″ Bokvurmen (Sweden)
"A great novel" Moje Bestsellery (Poland)
"Written confidently, with taste and expertise. The reader has no time for boredom. And that's about it in good writing, is not it?" Z Majeczką w kuchni (Poland)
"Maybe the corpses found are just the beginning of the big city's secrets? The reader will find answers to these questions in Hanna Lindberg's hugging thiller." dlaLejdis.pl (Poland)
"outstanding thriller … Very original. Definitely recommended." Gli Amanti Dei Libri (Italy)
"I enjoyed the constant presence of social networks, which finally have the space they deserve" Marco Chiesa, Piego di Libri (Italy)
"A wide range of well-designed gallery of characters, especially from the psychological point of view … An exciting book, which at times seems like a feature film, and not surprisingly seems destined to become so in the future." Gianluca Ferraris, Donna Moderna (Italy)
"I want to advise you not to miss the debut of Hanna Lindberg, Stockholm Confidential published by Longanesi." Sara Prian, La Voce di Venezia (Italy)
"It is certain that the first work of the blonde Hanna Lindberg … certainly manages to capture the reader's attention more streetwise and accustomed to the atmosphere already masterfully interpreted by authors such Nesbø, Nesser, Lagercrantz and never too late Stieg Larsson. Top rating 3 out of 3″ Mangialibri (Italy)
"The narrative is engaging, the plots are really "smart" as the continuous twists …Hanna has really amazed me, this is her first novel and in my opinion has already fully center. I can't wait to read her next! A very good book to start 2017!"
Anastasia Frollo, Thrillernord (Italy)
"A very modern and edgy novel (…) A very strong debut. 5 out of 5." Lovelybooks.de (Germany)
"A really good thriller. Rating 5 out of 5" Lexie läser (Sweden)
"Psychologically interesting with credible portraits of characters" Kaja Kleimann, Lugemissoovituse (Estonia)
"An exciting and dangerous story, about megalomania, greed and success. Raiting 8.1 / 10" Holger Nickel, Maschseeperlen.de Hannovers onlinemagazin (Germany)
"A novel cinematic where the role of the underworld is matched by that of the limelight" Mauro Castelli, Economia Italiana (Italy)
"A thriller outside the box, original and fresh. Recommended!" Marco Tiano, IlGiallista (Italy)

Stories that intertwine, tension increases, psychologically well-realized characters, a plot that does not disappoint (…) Hanna Lindberg has the ability to analyze, with an acute and profound vision, the relationships among the rich and famous of Stockholm. Recensionelibro.it (Italy)
"Lindberg's style is really nice, as well as the exchange of jokes and dialogues. The situations are alternated with sudden accelerations, twists and adrenaline moments." Michele Finelli, Contorni di Noir (Italy)
"This one takes us behind the scenes of a company only in perfect appearance, but tragedies and power games that appear unimaginable. High voltage, jet set, sequins and beautiful girls. The mix is served." Cronacaqui.it (Italy)
"I hope Hanna Lindberg stays true to her style and look forward to Solveig Berg's next adventure in Stockholm's Nobel gastronomy. 4 out of 4 stars" Leben-Lieben-Lesen (Germany)
"A book that deserves to be read" Liz Matutteame (Italy)
"Original and curious" La rosa de papel (Spain)
"Entertaining and morally questionable characters" Serendipia (Spain)
"I love the way that the characters are built … A perfect novel for lovers of mystery and suspense told in a peculiar and different style." Enredados en Palabras (Spain)
"Will you have the courage to immerse yourself in this world? We did and it was a really overwhelming." Elena Malvica, Wuz Libro (Italy)
"Lindberg found the right pace for her first novel, building her protagonist in an original way, as well as the supporting actors. Among all, the ambiguous Lennie, who despite his apparent selfishness and a big scary secret and his clumsiness knows how to play the game to get the things he wants." Thrillercafe.it (Italy)
"The book reminds a little of both Jens Lapidus books as well as Stieg Larsson's Millenium series (…) Plot, style and language are skillfully mastered. The suspense is maintained until the final pages."
Eva Kihlström, Pocketblogg.se (Sweden)
"The book, set in contemporary jet set Stockholm, in fact reveals an extraordinary originality." Stefano Dunno (Italy)
"A novel that breaks some of the most typical elements of the genre. Rating No Eres Lo Que Dicen De Ti 9,5 / 10" Elena Velarde, Pinceladas de Literatura (Spain)
"Lindberg prepares a novel that engages from the beginning and drag you in at breakneck speed, sparing in twists – all well managed and unpredictable." Michele Finelli, Contorni di Noir (Italy)
"Extortion, rumors and jealousy. And a great dramatic turn that makes the reader hold your breath and turn page after page after page." Fridah Jönsson (Sweden)
"A thrilling thriller full of intrigue, sex and suspense. The most daring renewal of the Nordic noir novel."
Libros de Ensuenos (Spain)
"Original … a great success" Misioszuszki (Poland)
"The author describes an environment that most of us never meet and can not even imagine. Some may even find it shocking. The club life. The rather superficial life. Where success can be meassured in Facebook likes, appearance and in the privilege to skip in line."
Nisse Scheman, Dast Magazine (Sweden)
"A really good and well-written suspense novel"
Starwoman, Damernas värld (Sweden)
"The strength of Lindberg's book is the plot. It is a well constructed story that is just right unpredictable and contains several interesting twists. "
Kerstin Bergman, CrimeGarden (Sweden)
"A great book by a great new author. Read it!"
Anja Nilsson (Sweden)
"Thrilling, intriguing and entertaining. Rating 4 out of 5. "
Jenniesboklista (Sweden)
"A very entertaining thriller"
Bokpar (Sweden)
"Solveig Berg in an intriguing character" Johannas Deckarhörna 
"Feels new in the genre"
Annas Deckartips (Sweden)
"Here we are talking of a novel in ultra-fast speed! I like it. It is hunting for killers and redress, with many interesting twists and turns in the plot"
Josefine Sandblom / Bibliofilen (Sweden)
"I can't believe it is her debut novel. It feels so professional in every way, and I find it hard to believe that this is the first Lindberg will publish."
Boktanken (Sweden)
"STHLM Confidential is a novel I highly recommend. Now I wait impatiently for Hanna Lindberg to publish her second book. With such a skilled writing there just has to be another one to come "
Bokhyllan (Sweden)
"A really good book that I highly recommend"
Roomofkarma.se (Sweden)
"The murder mystery is really intriguing"
Boklysten (Sweden)
I appreciate the humor that shines through between the lines. 4 / 5 "
Läsa och Lyssna (Sweden)
"Hanna Lindberg has a nerve in her writing (…) hopefully we will get to read more from her."
Den döda zonen (Sweden)
"Skillfully written, with a good reading flow"
Bims Blogg (Sweden)
"An intense and chilling story about the quest of being someone. Add decadence and sudden death – it's a true pageturner."
Cissi Wallin (Sweden)
"Hanna Lindberg's debut is an intense, compelling novel that captures our incredibly sad contemporaries"
Peo Bengtsson (Sweden)
"Mycket Stockholm, mycket mediavärld, många mord. Kul och fartfyllt."
Bokoholist (Sweden)

STHLM Confidential has also been featured in
Aftonbladet söndag
Plaza Kvinna
Femina
Vi Läser
Sydsvenskan
Mama
Tidningen Skriva
Uppslaget
Foodmonitor