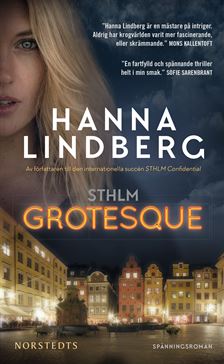 The Gold Chef Gala is the event for anyone with a position in the prestigious gastronomic scene of Stockholm – and the young journalist Solveig Berg is there to cover the ceremony. But the evening ends in chaos. Her editor in chief is killed in front of her eyes.
The police are led on a false track and Solveig is forced on a dangerous pursuit of truth. She is confronted with the dark forces lurking behind the closed doors of luxury restaurants. The deeper she digs, the more dangerous it becomes.
Stockholm Grotesque is the second instalment of the internationally acclaimed series about the edgy, investigative journalist Solveig Berg. It is a story about people running away from their past. And what happens when the past catches up on them.
Release: October, 2017, Norstedts
Blurbs
"The Restaurant industry has never been more fascinating. Or more scary than in Stockholm Grotesque. Hanna Lindberg is a master of intrigues, and I read the book without putting it down, while enjoying all the crazy, passionate and fatal characters that populate the well-written pages."
– MONS KALLENTOFT, author of the bestselling Malin Fors and the Hercules series
"Murder on a first class restaurant – a fast paced and suspenseful thriller just the way I like it."
– SOFIE SARENBRANT, #1 bestselling author of the Emma Sköld series
Praise and reviews for Stockholm Grotesque
"Thrilling depiction of the exclusive restaurant scene … the protagonist gives positive Annika Bengtzon vibes" Amelia
"The intrigue is dense, the pace high and the resolution is perfect for the big screen."  Nya Kristinehamnsposten
"Hanna Lindberg delivers a story with many layers in a high pace and with a thrilling finale." Journalisten
"I like Hanna Lindberg's satirical tone of hipster life and pretentious food … However, the most important thing, she writes suspenseful books" Borås Tidning
"This novel is good, really good. Suspense on high level through the entire book. 5 out of 5." Madeleine / Bokdjungeln
"An absolutely wonderful book that really should be a movie" Gizzy.se
"A novel that contains thrilling suspense, tentative love and complicated friendship. I just want to read more of this author. A clear 5 out of 5." Millahs Bookpage
"The environments are well drawn, the characters vigorous and the whole story entertaining" Dast Magazine
"I'm delighted when I read a book that found a new niche. That's the case with Sthlm Grotesque … It is clear that the author is a journalist and that she knows what she is talking about because it feels credible. The satirical tone enhances the story." Boktokig, Eva Boström
"Dramatic and engrossing … the past is tied together with the present in a fantastic way" Annas deckartips
"I was hooked from the very first page" Malinbooknerd
"Greed, male vanity and competition govern Lindberg's world and readers with insight into the Swedish food world will probably nod with recognition in many places, especially in the tracks of the autumn's #metoo" Kerstin Bergman, CrimeGarden
"One of the best crime novels this year" Läsa och Lyssna
"Interesting characters, a thrilling plot … 5 out of 5" Bokraden
"A real page turner" Bokmalin
"Both books are true page turners, and although they can be read independently, it's even better to read them both, in correct order. Solveig Berg is an interesting character, and she is the classic "curious-journalist-who-gets-in-over-her-head", a proven concept. Perfect reading to enjoy after Christmas dinner or another great meal!" Johannas Deckarhörna
"Impossible to stop reading without thinking just one more chapter" Nadines Bokhylla
"A really entertaining and thrilling novel at high pace" Boklysten
"Extremely suspenseful, well-written and gripping" Jennies boklista
"An extremely thrilling book that I could not put down. 5 out of 5" Josephine Almanakis, author, Bokus.com 
"Suspenseful and surprising … I like this page turner and hope to read more in the same style from the author" Villivonkansbooks
"I recommend it to anyone who likes Swedish thrillers and to anyone who is looking for an exciting book." Lexie läser
"A real page turning thriller. I like the short chapters. The main character Solveig Berg is badass and when she is searching for the truth it's get pretty rough." Evas bokhylla
"Hanna Lindberg ger i vår tid stämningarna från den tid som var villkor för den romerska överklassen … Läsupplevelsen om Stockholm på 2000-talet påminner om Rom på 300-talet. Det är bildande att läsa spänningsromaner." Östra Småland
Reader comments
"Hanna, your book is magical"
"Detailed, smart and suspenseful … a really well-executed contemporary crime novel"
"A extremely thrilling book that I could not put away. Lucky you who still have the reading experience in front of you!"
"A super strong contemporary thriller that continually surprises the reader."