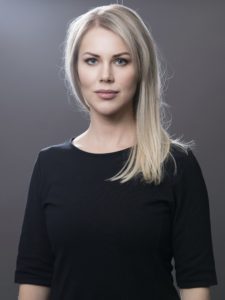 Who is Hanna Lindberg?
Hanna is a journalist and author from Stockholm, Sweden, born in 1981. Her first novel, STHLM Confidential is a contemporary thriller set among the glitzy gourmet restaurants and a magazine world in decline. The book is about the quest for celebrity and love in contemporary Stockholm.
The paper pack immediately reached #1 in the Adlibris bestselling thriller chart when released in 2015 and rights are sold to 10 countries. 
The follow-up, STHLM Grotesque, was released 2017 (Norstedts)
New stand alone thriller will be out in 2020. Follow Hanna on Facebook for the latest news. 
11 facts about Hanna
Grew up in the same neighbourhood where Solveig Berg lives in debut novel STHLM Confidential
Has three kids
Her mother is from Finland
Practice Transcendental Meditation and meditates daily
Worked as a food editor at Swedens no1 food magazine Allt om Mat
Was formerly a news reporter at Swedish newspaper Aftonbladet where she met her husband, foreign reporter Staffan Lindberg
Was asked to record a summer hit in 2005 with Enigmas producer but declined due to limited vocal resources
Loves horseback riding, snowboarding and cross country skiing
Earned a MSC in management at Lancaster University Business School where she got awarded for her master theses on whistleblowers
Finds graffiti as one of the most intriguing art forms
Has three BA degrees - in Social sciences, Media studies and Management
Competed in the Swedish championships of chess as a 12-year old